Anti Fatigue Mats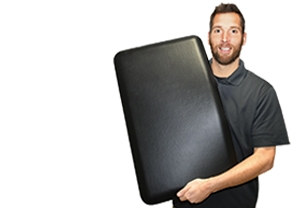 The Only Five Year Warranty In The Industry
So Comfortable We Use Them Ourselves!
Simply the best mat your feet can stand on, and it's guaranteed for 5 years! No one else offers that guarantee, because no one offers this kind of rugged quality. Casino staff swear by our mats. Used in most major casinos across the USA.
Choose from our stock mats in 2-1/2ft by 1-1/2ft or 3ft by 2ft sizes, or have your mats made to order with custom sizes and colors.